---
Recognition for Forward And Thinking's Natalie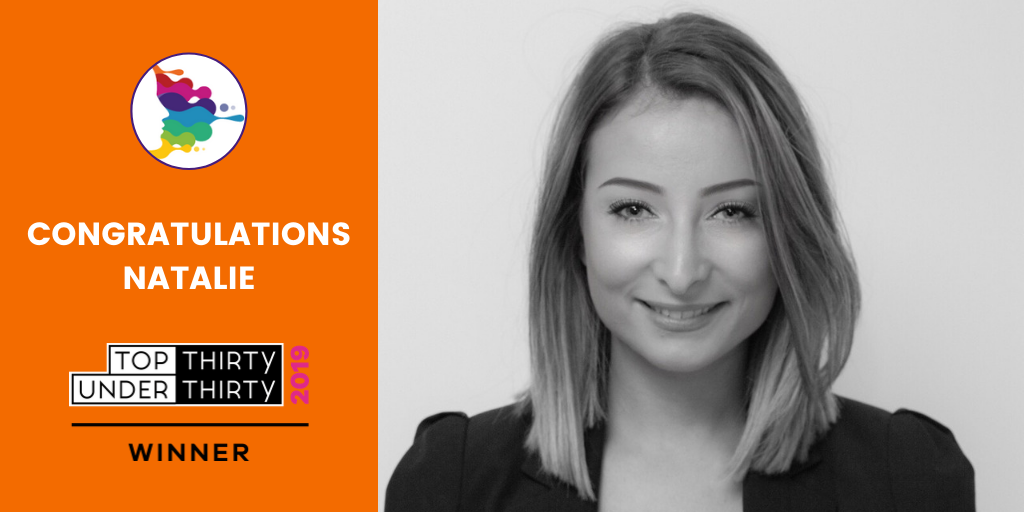 Forward And Thinking Account Director, Natalie Downie, has been recognised as one of the region's brightest young business talents by being named in the 2019 Hull and Humber Top 30 Under 30 list.
The list celebrates the achievements of the very best young employees in Hull and East Yorkshire and winners will have the chance to further develop their skills by being invited to attend a series of exclusive workshops.
It's an honour
It goes without saying that everyone at Forward And Thinking is immensely proud of Natalie's achievements but here's what Natalie had to say:
"It's amazing to be nominated for this year's Top 30 Under 30. I'm really proud of my achievements at Forward And Thinking and it's been really moving to see the testimonials from colleagues and clients.
"I'm extremely lucky to have such supportive family, friends and colleagues who have all been part of my career success so far and I look forward to continuing to grow the company and achieve many more milestones.
"It is an honour to be sharing this years top 30 under 30 with all the other winners."
Natalie was nominated for the award by Forward And Thinking's Director, Alison Johnson, who said:
"Natalie joined Forward And Thinking in 2014 on a two week work experience placement. She showed so much potential that she was immediately offered a full-time role as an Account Executive.
"Within two years, she was promoted to Account Director and started mentoring other team members whilst still keeping her key accounts happy and growing. Natalie is a huge asset to the business and has led the growing team by example – going the extra mile for clients and team members alike."
Attention to detail
Director Andrew Johnson added:
"Systems and detail oriented, she's been transformational in the business. Company revenue has grown 5x during this time and the team has grown accordingly. This would simply not have been possible without her drive, enthusiasm and positive mental attitude.
"Nat's journey has been a rapid, momentous effort and in April, less than 5 years after her work experience began, we're promoting her to Managing Director. She fully deserves this and we've no doubt that she'll take the Company forward in leaps and bounds. Natalie's hard work and determination to make a difference simply knows no bounds. Forward And Thinking has become the region's most prolific media buying agency and a great deal of credit for that rests on her shoulders.
"Great teams need great leaders and Natalie is right up there with the best of them."
Passion and knowledge
Our Marketing Manager, Dave Wilkinson, also contributed to Nat's nomination:
"I first met Natalie in 2014 when I was working for a client. From the very first meeting, I was impressed with her knowledge and passion. She was everything you'd want in an account manager – creative, reliable and she nailed every proposal she presented, and made us feel like her top priority.
"Since joining Forward And Thinking, I've been blown away by how brilliant she is. Seeing her with clients has made me realise that I wasn't special after all – she's just as brilliant for everyone.
"Her experience, attitude and approach to her work makes it hard to believe she's yet to turn thirty. She carries herself so confidently and professionally, which is so rarely seen from people her age. She inspires me, she motivates me and I'm proud to work with her."
Client feedback
It's not just everyone in the office who supported Nat's nomination. She also receives high praise from her clients.
"Natalie revolutionised the way that we advertised key products and services, generating millions of pounds of revenue by supporting ticketing and retail campaigns with innovative promotional ideas." – James Mooney, Head of Media and Communications, Leeds United Football Club
"Nat is committed to ensuring her clients are always at the centre of all planning decisions. She possesses great creativity, insight and tenacity always over-delivers on clients' expectations." – Wendy Mullins, Account Manager, Exterion Media
"Nat is amazing to work with. Nothing is ever too much trouble. She's constantly coming up with new ideas and always offers an outstanding service." – Nicole Bateman, Marketing Officer, University of Hull.
If you'd like to congratulate Natalie or, even better, work with her, drop her an email at natalie.downie@forwardandthinking.com
Recommended Posts
September 19, 2019
September 2, 2019
January 3, 2019